Over the past 13 years, the number of reported cases of tickborne disease has more than doubled, according to the Centers for Disease Control and Prevention (CDC). Each year, the CDC reports approximately 30,000 cases of Lyme disease, but experts estimate that the true incidence is 10 times higher. In addition, there are no vaccines for any US tickborne pathogen, and prevention and management of these illnesses are slowed by suboptimal diagnostics and a lack of treatment options for emerging viruses.
Bacteria are the cause of most tickborne illnesses in the United States. They include Ehrlichia chaffeensis, Anaplasma phagocytophilum, and Rickettsia rickettsii, although parasites such as Babesia microti have recently been found as well. Borrelia burgdorferi also causes substantial illness as a common agent for Lyme disease, which accounts for 82% of reported cases of tickborne diseases in the United States.
For now, the first step for clinicians in the war against tickborne illnesses is to advise patients to use insect repellent and wear long pants when they are gardening or engaging in any activities in the woods.
Beware a new threat: The long-horned tick
The long-horned tick (Haemaphysalis longicornis) is an Asian tick that recently became the first new species of tick to be found in the United States in 50 years. Even worse, this tick is capable of lightning-fast reproduction. It was first found in a sheep in Hunterdon County, NJ, and has since been reported in seven states (including Pennsylvania, North Carolina, Virginia, and West Virginia), in suburban areas around New York City, and as far west as Arkansas..
In Asia, the long-horned tick carries pathogens related to Lyme disease. The biggest threat, however, is a phlebovirus that causes severe fever with thrombocytopenia syndrome, which carries an overall fatality rate of around 15% of those infected. In people aged 60 years or over, the mortality rate jumps to 50%.
Although long-horned ticks in the United States have not yet been associated with any human disease, health experts are concerned that it will only be a matter of time before it is. Currently, long-horned ticks are only considered a threat to livestock.
Tickborne diseases
Lyme disease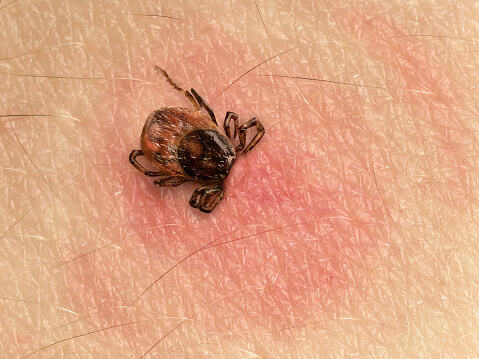 Lyme disease is most commonly caused by B. burgdorferi, but recently B. mayonii has been identified as its cause in the upper midwestern United States. These spirochetes are carried by hard-bodied ticks, including black-legged ticks (Ixodes scapularis) (shown here) in the northeastern United States and I. pacificus in western states.
Lyme disease is now found in all 50 states.
In 2013, 95% of cases were reported in 14 states, including Connecticut, Delaware, Maine, Maryland, Massachusetts, Minnesota, New Hampshire, New Jersey, New York, Pennsylvania, Rhode Island, Vermont, Virginia, and Wisconsin. Pennsylvania had the most positive cases last year with 10,001.
During the localized stage, infected individuals may present with erythema migrans (see photo), or a red ring-like or homogenous expanding rash, the classic bull's-eye target. However, this is not present in all cases.
Symptoms include malaise, headache, fever, myalgia, and arthralgia, as well as lymphadenopathy.
Lyme disease may progress to a disseminated stage, with similar symptoms plus possible rheumatologic, cardiac, and neurologic manifestations.
In adults, treatment consists of oral doxycycline (100 mg bid in adults), cefuroxime axetil (500 mg bid), or amoxicillin (500 mg tid), all given for 14 to 21 days.
Antibiotic agents and dosing durations are the same in children, but doses are 50 mg/kg divided into three doses, 4 mg/kg divided into two doses, and 30 mg/kg divided into two doses, respectively.
Erythromycin may be used in patients who are intolerant of those agents, but may it not be as effective.
Anaplasmosis
Anaplasmosis is caused by A. phagocytophilum, which is carried by black-legged ticks (I. scapularis) (shown here), however usually in their nymphal stage.
It was first recognized in the mid-1990s and occurs most frequently in the upper midwestern and northeastern states.
The number of cases in the United States has steadily increased, from 348 in 2000, when the disease became reportable, to 4,151 in 2016. Its incidence has also increased from 1.4 cases per million persons in 2000, to 6.1 cases per million in 2010.
Eight states account for 90% of all reported cases of anaplasmosis: Vermont, Maine, Rhode Island, Minnesota, Massachusetts, Wisconsin, New Hampshire, and New York.
Anaplasmosis is occasionally found in other parts of the country, including the southeastern and south-central states.
Anaplasmosis carries a low case fatality rate of less than 1%.
Most cases occur in the summer months, peaking in June and July, but a second peak occurs in October and November, corresponding with adult black-legged tick activity.
Signs and symptoms include fever, shaking, chills, severe headache, malaise, myalgia, gastrointestinal symptoms, cough, and rash (rarely).
Treatment consists of oral or IV doxycycline (100 mg bid in adults; 2.2 mg/kg bid in children weighing less than 100 lbs) for a duration of 10 to 14 days.
Doxycycline is recommended as first-line treatment for suspected anaplasmosis in patients of all ages. The use of any other antibiotic increases the risk of death.
Ehrlichiosis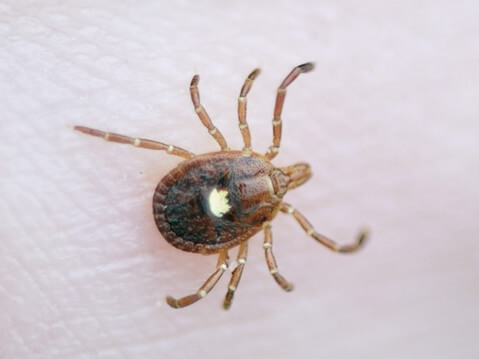 Ehrlichiosis is an umbrella term used to designate diseases caused by Ehrlichia chaffeensis, E. ewingii, or E. muris eauclairensis, with the former two carried by the Lone Star tick (Amblyomma americanum) (shown here).
The Lone Star tick is very aggressive, and the female carries a white dot, or "lone star" on its back. In addition to E. chaffeensis and E. ewingii, it also transmits Francisella tularensis(tularemia), Heartland virus (Heartland virus disease), Bourbon virus (Bourbon virus disease), and Southern tick-associated rash illness (STARI).
These ticks can also cause allergic reactions to red meat.
Most cases are caused by E. chaffeensis, and have steadily increased since 2000, when only 200 cases were reported, to more than 1,377 cases in 2016.
Case fatality rate has declined since 2000, and accounts for approximately 1% of cases.
Most cases are of summer onset, peaking in June and July.
Ehrlichiosis is most frequently reported in the southeastern and south-central states from the eastern seaboard west to Texas, but in 2016, Missouri, Arkansas, New York, and Virginia accounted for 50% of all reported cases.
Signs and symptoms are similar to those of anaplasmosis, with the addition of confusion and conjunctival infection. The CDC notes that while ehrlichiosis and anaplasmosis have a similar clinical presentation, they are transmitted by two different species of ticks and occur in different regions of the country.
Like anaplasmosis, treatment consists of oral or IV doxycycline (100 mg bid in adults; 2.2 mg/kg bid in children weighing less than 100 lbs). Patients should be treated for at least 3 days after fever subsides and until clinical improvement is seen. The minimum course of treatment is 5-7 days..