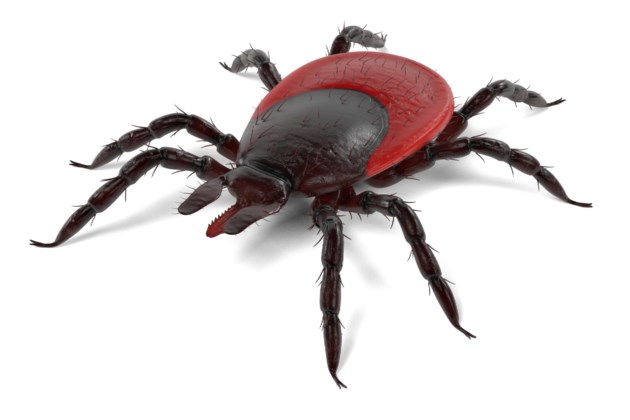 THUNDER BAY — An official with the Thunder Bay and District Health Unit says active surveillance for blacklegged ticks will resume soon in an area of the city where the disease-carrying insects have been found before.
Three ticks were captured earlier this season by a TBDHU worker dragging a white sheet over the ground in the Belrose Road area.
Blacklegged ticks can carry the bacteria that causes Lyme Disease.
Ken Deacon, coordinator of the health unit's vector-borne disease program, says "We do have a good location…so we'll be going back and looking to see what's happened during the summer."
Deacon explained that ticks go through various stages during the year.
"It seems like they go away, but the stages that we notice (them) just go away. The second stage is very tiny, and it's very hard to find it through active surveillance, but they start to molt into the adult stage in late summer."
Deacon expects that more blacklegged ticks will be captured by active surveillance or turned in by the public in September and October.
By the beginning of July, five of the insects had been caught by the health unit worker, and 29 other blacklegged ticks had been turned in by members of the public. By comparison, none had been captured through active surveillance at this point last year, and 38 had been turned in.
So far this year, five have tested positive for Lyme Disease.
Deacon said only one of the five was from the local area, whereas the other four were inadvertently carried to the city by people who had travelled in other parts of Canada or the U.S.
Minnesota and Wisconsin, he noted, have "a very high population of blacklegged ticks, and a high percentage of those carry Lyme disease."
In the District of Thunder Bay, "we have never had a high percentage of ticks that test positive for Lyme disease acquired locally. The maximum ever has been about 10 per cent, and the province feels that it's not a very severe problem until it's over 20 per cent," Deacon said.
Despite that, he said, it's important for area residents to take preventative measures to protect themselves from the disease.
Deacon speculated that, depending on the results of tick samples tested this fall, Public Health Ontario could designate the district as a Lyme Disease risk area.
Currently, that designation has only been made in pockets of the Rainy River and Kenora districts and parts of southern Ontario..