Members of the Chesterfield Fibromyalgia Support Group pictured with their group leader, Margaret Arnold, right, they are from left, front row, Angela Taylor, Diane Tomlins, and from left, back row, Andrew Markwell, Angie Webster, Leanne Watkinson and lead admin Julie Drury.
Chronic pain and extreme fatigue are two of the symptoms which sufferers of an invisible illness experience day in and day out. But the power of positivity can be beneficial to those whose lives are plagued by the incurable condition fibromyalgia.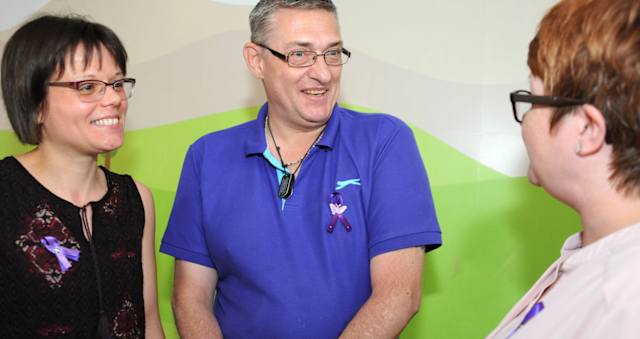 Fibromyalgia sufferers share their experiences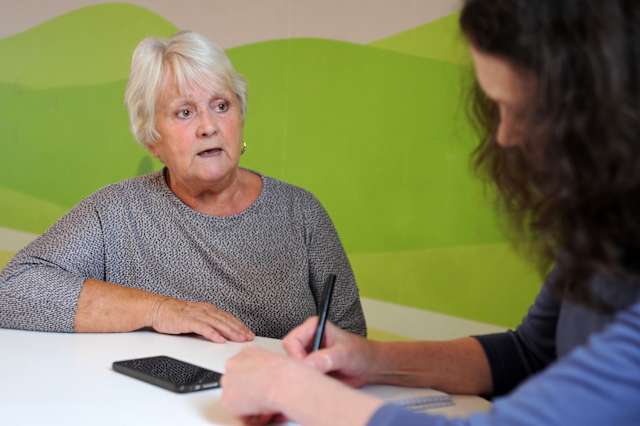 Margaret Arnold, group leader of Chesterfield Fibromyalgia Support Group talks to reporter Gay Bolton.
Julie Drury, lead administator for Chesterfield Fibromyalgia Support Group, said: "It's a battle of mind over body. We have members who work full-time and manage their fibro incredibly well. They exercise, they eat well and they really look after themselves which enables them to live a balanced life."
Mum of two Julie has just started a job as an exam invigilator at Brookfield School in Chesterfield after being unable to work for more than two years because of fibromyalgia. She said: "I've chosen very carefully and not over-stretched myself. Brookfield know all about my fibro and have been very supportive. It's given my day a bit of structure and I now value the time that I'm not working."
Julie, 47, of Old Road, Brampton, used to teach hairdressing at Chesterfield College but had to pack the job in because of health issues. She said: "Since leaving college, I've been self-employed doing special occasion hairdressing and photography but had to give that up because of the practical nature of the work."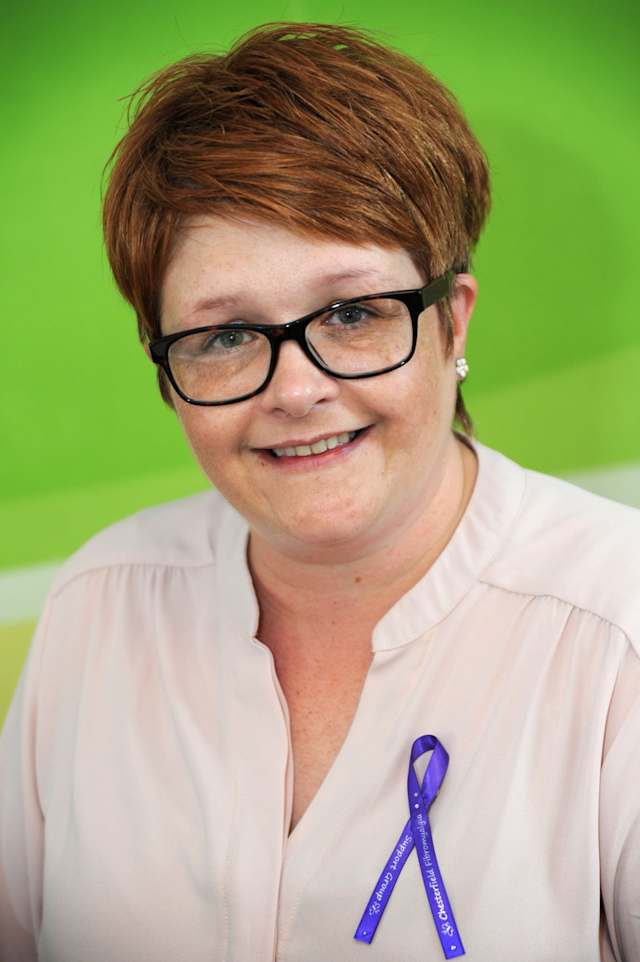 Julie Drury, lead admin for Chesterfield Fibromyalgia Support Group.
A member of the support group for nearly four years, Julie runs daytime meetings where members share their experiences, listen to guest speakers and learn how mindfulness, relaxation and laughter can help.
She said: "Fibro friends all have similar problems and it's great to be able to speak the same language. If people are having a particularly difficult time we rally around them."
Julie's fibromyalgia was officially diagnosed seven years ago and she believes that the symptoms began after giving birth to her youngest daughter.
She said: "There is no one test for fibro – it's very much a process of elimination. They did blood tests for more sinister things and I had scans from the base of my neck to my hips.
"Getting a diagnosis of fibro is a two-way thing…..you're relieved to find that whatever it is has a name and that it won't kill you, but it is life changing."
'A syndrome which disables you'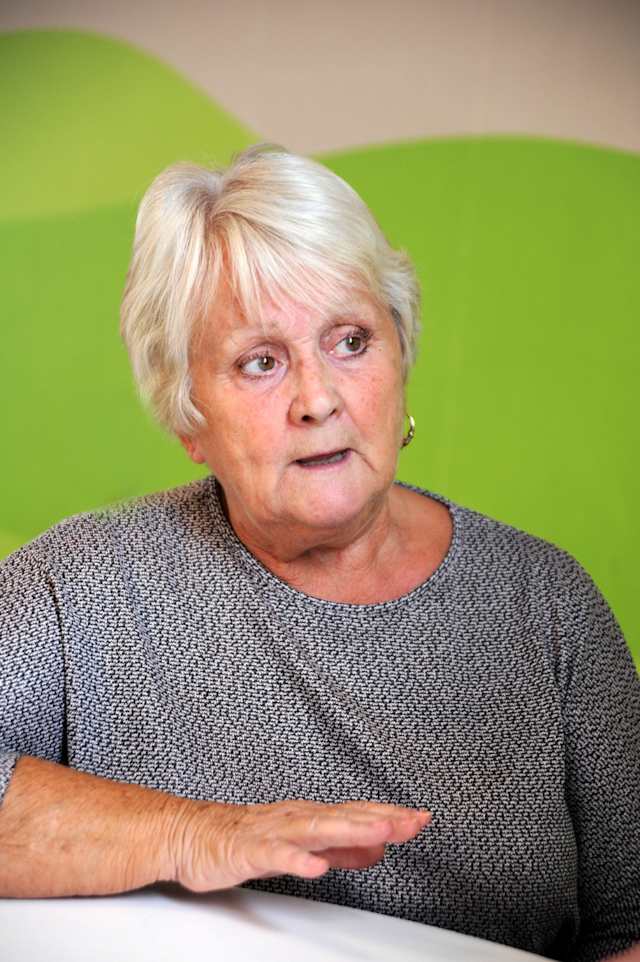 Margaret Arnold, leader of the Chesterfield Fibromyalgia Support Group.
"Fibromyalgia is not classed as a disability but it's a syndrome which does disable you," said Margaret Arnold, leader of the Chesterfield support group.
Margaret, 74, has had fibromyalgia for 34 years and was diagnosed after a car accident. She said: "It's not a killer but I am in pain all the time. I get a lot of cramp in my feet, if my feet and hands don't hurt, something else will hurt. My way of dealing with it is diversion.
"When I was able, I used to do sewing, knitting, crocheting or go for a walk around the garden to take my mind off the pain."
She has made lots of wheat and lavender bags to help ease the discomfort of fellow sufferers.
Margaret, who lives in Hasland, runs evening meetings of the support group which she has been a member of since it started 18 years ago. She said: "The group is a good thing as it helps make people aware that there are others like themselves."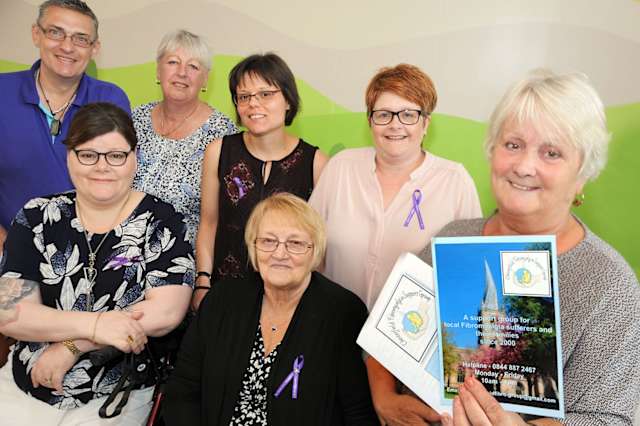 Group leader Margaret Arnold, right, with Angela Taylor and Diane Tomlins (front row, from left) and Andrew Markwell, Angie Webster, Leanne Watkinson and lead admin Julie Drury (back row).
Chesterfield Fibromyalgia Support Group meets at the following times:
Evening meetings are held on the second Monday of April, June, August and October from 6.30pm to 8.30pm at the Nenna Kind rooms, 3rd floor Dents Chambers, New Square, Chesterfield, S40 1AH. There are a handful of steps and a lift to the first floor.
Daytime meetings are held on the last Saturday of every month from 12 noon to 2pm at Chesterfield Library in meeting room 2. The library is disability friendly with a lift and automatic doors. Meet-ups for coffee are advertised on the group's Facebook page.
For further information, call 0844 887 2467 or email: chesterfieldfibro.group@gmail or visit the group's Facebook page on www.facebook.com/Chesterfieldfibromyalgia. The postal address is: Chesterfield Fibromyalgia Support Group, 73 The Green, Hasland, Chesterfield, Derbyshire, S41 0LW.
'I'm a person, not an illness'
Family bereavements and school bullies made life tough for Leanne Watkinson when she was growing up.
She struggled with learning issues, dyslexia and dyspraxia, and suffered depression and anxiety during her teens and early twenties.
Leanne's health issues were compounded six years ago when she started getting tingling and burning pains in her feet.
The pain escalated, spreading to her arms, back and neck and the majority of her body.
In 2014 she was diagnosed with fibromyalgia – a condition which she describes as like a hangover without the alcohol.
Leanne, 30, said: "I can't walk without a stick – fibro affects my balance and I suffer dizzy spells.
"If I try to go shopping in town, the noise and the lights send me into a fog and I can't think straight. I've gone into shops and to the till to pay for something and not been able to count the money which is embarrassing."
Leanne, who lives with her parents in Chapman Lane, Grassmoor, has found comfort among allies in the support group. She said: "It's lovely to be around people who understand what you're going through. Coming to the group has helped me to accept that there is more to life than fibro. I'm a person, not an illness."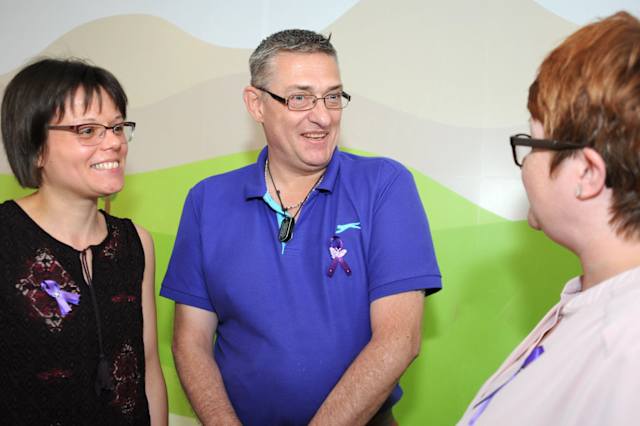 Leanne Watkinson, Andrew Markwell, Julie Drury, left to right.
'To go from working to doing nothing was a bit of a turmoil'
Six years ago Andrew Markwell was working in a high-pressured job as a sales director – then his life changed forever.
He said: "I was selling IT around the country. Work and stress got to me and I went off sick."
Andrew, 50, of New Street, North Wingfield, was first diagnosed with peripheral neuropathy and four years ago a rheumatologist told him that he had fibromyalgia.
Stress was one of the triggers which Andrew believes caused the condition. He said: "There had been a lot of responsibility in my job.
"To go from working to doing nothing was a bit of a turmoil.It changed my outlook on life such as how I live financially."
Spinal arthritis, liver disease and a massive hernia are other health problems which Andrew has to cope with.
He said: "I use a stick and a walker. I'm just about to get a mobility scooter but I don't particularly want it because it comes with all sorts of stigma, but needs must."
Andrew copes with fibromyalgia through mindfulness and resting. He said: "Sleeping is irregular. You fall asleep at three in the afternoon for no reason or you can't get to sleep at night so you get your sleep whenever you can."
He fills part of his time by collecting money for Macmillan. He said: "My dad had cancer and Macmillan helped him out in his last days. I do charity work to give something back."
Two million people in UK have fibromyalgia
Around two million people in the UK are thought to be affected by fibromyalgia.
The illness causes chronic pain and fatigue and can be associated with irritable bowel syndrome, headaches, chest pain, dizziness, anxiety and panic attacks.
Des Quinn, chairman of Fibromyalgia Action UK, said: ""Fibromyalgia is not just being a bit sore; it is a condition that can ruin people's working and personal lives, leaving them to grieve for the people that they once were."
source:https://www.belpernews.co.uk/news/fibromyalgia-it-s-a-battle-of-mind-over-body-1-9178122